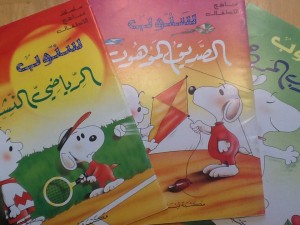 I knew the package that arrived today was going to make me very happy, but I wasn't prepared for just how happy it would. The extreme happiness wasn't just because it was Peanuts coloring books in Arabic, a language that previously didn't have any place in the AAUGH.com Reference Library. And it wasn't just because one of these Arabic coloring books from a quarter century back had eluded me at auction years ago, a fact that had eaten away at me for years. And it wasn't just because this was clearly unlicensed, non-Schulz Peanuts, which inherently lends to weirdness.
And it isn't because of this title page, with its Easter imagery that would not be fully understood even in some highly Christian countries, much less most places where Arabic is spoken:
And it isn't seeing non-Roman lettering spill out of the characters mouths:
And it isn't characters redesigned to the point of unrecognizability (this appears to be Sally):
And it wasn't even Lucy and Schroeder on a Vespa:
No, the picture that brought me to the absolute apex of my happiness was…
…wait for it…
…this one:
I'm sure you understand.
Thanks to Caren for getting these to me. She's got a lot of other interesting items for sale over at CollectPeanuts.com – check it out!