I see it as a very expensive book with lots of extras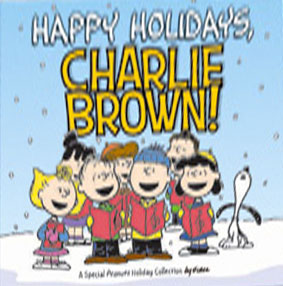 Coming in October is the book Happy Holidays, Charlie Brown. Now, I'm not sure exactly what is inside this book – could there be an adaptation of A Charlie Brown Christmas somewhere in there, given that the words A Special Peanuts Holiday Collection appear on the cover? – but I do know that they sure are packaging a lot of things with it. Officially, the package is Peanuts 70th Anniversary Holiday Collection Limited Edition, and the main thing this limited-edition, packed-on-a-doghouse set will be sold as is a set of four Blu-ray disks with nine specials on them (It's the Great Pumpkin, Charlie Brown; A Charlie Brown Thanksgiving; A Charlie Brown Christmas; It's Magic, Charlie Brown; Charlie Brown's All-Stars; The Mayflower Voyagers episode of This is America, Charlie Brown; Play it Again, Charlie Brown; It's Christmastime Again, Charlie Brown; and It's Flashbeagle, Charlie Brown) with new audio commentary on those first three (the announcement doesn't say from whom, and no, that's not some cutesy way of me saying it's me, it's not. I didn't know about this project until AAUGH Blog reader John pointed me to the press release.) Oh, and a new documentary featurette.
Also in there, a Snoopy figurine!
Things that gotta be said:
This "70th anniversary" thing is coming out on October 1st of this year… in other words, the day before the 69th anniversary of the strip.
It's a limited, numbered edition of 25,000. That makes it an Officially-Intended Collectible, a category that's of less interest to me than things that are just made for consumption.
The publicity "photo" is glorious in its fakey-fakiness. Sure, the lighting on the Snoopy figure that's inside the packaging looks a little odd. And the doorway on Snoopy's doghouse that's outside the packaging is, umm, well, I'm not sure what that's supposed to look like, it's clearly not the hole into an open package. But it's the reflections that really get me. Yes, the doghouses and the figure could, I suppose, show some reflection on a shiny enough base surface. But how in the world is the book reflecting its face-up front cover onto the space in front of it???