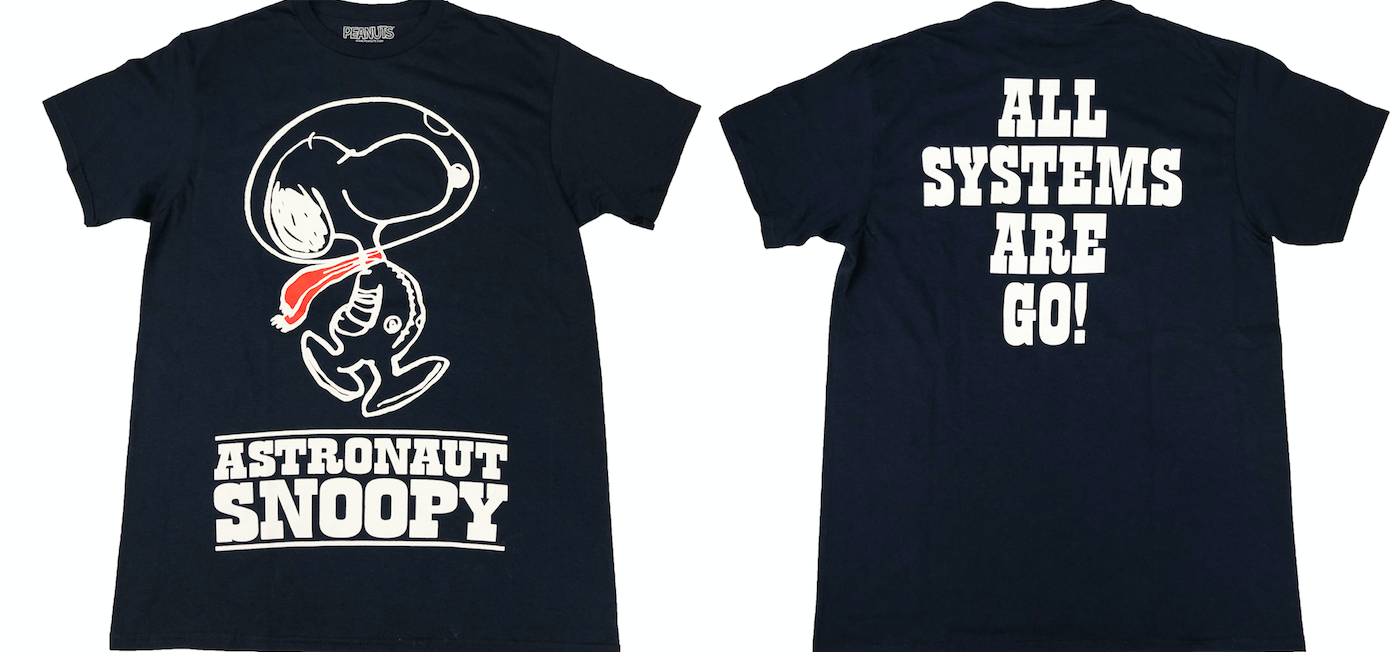 Well, the legendary San Diego Comic-Con is just around the corner… timewise, that is. Physically, it's down in San Diego, which is like a month's walk from where I am and even more from you. Anyway, as always, it's far too late to get a ticket, which are hard to get even when it's not too late. So mostly, I'mhere to taunt people with the things they can't get… in this case, the convention-exclusives available at the Peanuts booth. For the second year in a row, the Peanuts items have the theme of space travel. And some of it is sweet.
I rarely buy t-shirts, certainly not for full clothing prices, but this time, I may. I mean…
Yeah, I could wear that. Twenty-five bucks. Same price as for this'n:
The young 'uns can get this $20 t-shirt in youth or toddler sizes:
Fifteen buck cap:
These ten bucks a pop pins include one that's based around the same drawing as the Silver Snoopy pins that are sent into space and given to those who may key contributions to NASA mission safety… for about .1% of what a real one currently offered on eBay would cost you.
And hey, another of those pins is designed after the Hallmark Peanuts pennants of the 1960s, as is this five buck patch:
Water bottle? $25
Yo! A yo-yo!
And who needs a lanyard? You do? Well, if you go to Comic-Con, you get a free lanyard anyway to carry your badge, but it probably won't be as cool as this Peanuts one.
Ten dollar Snoopy keychains in that classic motel key shape… harder to find these days since they all changed to those keycards, which are very efficient and utterly unromantic.
And if you're tired of letting your fingers do the walking (it's a reference to old ads for phonebooks, youngsters) here are some skateboards for your fingers!
There tends to be long lines for the chance to buy these exclusives. It always amazes me at people who spend hundreds on the ticket and maybe thousands on travel and hotel and spend most of their time standing in lines to spend money… but if that's what makes them happy, more power to them!