We've got covers for some of the upcoming releases!
The cover for the kid-targeted strip collection Charlie Brown: All Tied Up
really helps straighten up the confusion between being tied down and being tied up. This is clearly up.

Christmas is Here!
is a children's storybook that's intended to help you find the location of Christmas on a map, I reckon. (It's somewhere near Easter Island. Christmas being short for Christ-landmass. It's just short of the New Year's Date Line. This is why they don't let me teach school, people!) Anyway, it looks like Snoopy is taking Woodstock for a walk in a wok.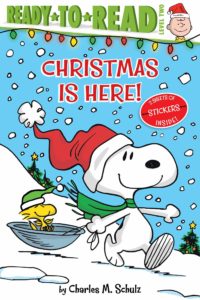 Peanuts: The Poster Book
(or, as Amazon's listing is calling it, The Peanuts Poster Book) is  a poster book containing posters, in book form. (Actually, according to the cover, it's not even posters, it's "prints".) It would be nice to know what size these things are. These are meant to be "suitable for framing," so probably not too large.